Prefinished Engineered Domestic Flooring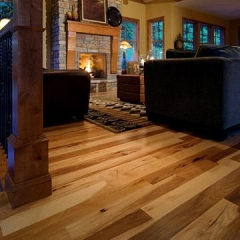 Domestic species, such as oak, hickory, and maple, are the most common for prefinished engineered flooring. In general, engineered flooring consists of three to nine layers, also called veneers, of natural hardwood, and the top is a high-quality domestic species. The under layers may be of the same or a different species. The number of veneers is typically inconsequential, except for when engineered flooring is added over radiant in floor heat. Engineered hardwood, in this case, needs as many layers as possible for the most stability.
Adding high-quality red oak floors to all floors of your home, even to the basement, is possible with prefinished engineered domestic flooring. Engineered hardwood expands and contracts less than solid flooring, and this is the result of varying directions for the grain. When all layers are glued together, the grain for each goes a different direction. Prefinished engineered domestic flooring can be added practically anywhere in your home: on, above, or below grade and on top of any subfloor, even concrete.
When choosing prefinished engineered domestic hardwood for your home, consider a few factors. In addition to the appearance, how thick will the flooring need to be? Hardwood flooring needs to align with all preexisting materials. Prefinished flooring, however, does not need to be sanded and finished, but it may need to be in the future. When choosing an engineered domestic hardwood, make sure the top veneer, also called a "wear layer," is thick enough. Engineered hardwood is typically 1/4th to 3/4ths of an inch thick, with the wear layer 0.6mm to 3/16ths of an inch of that amount.
Prefinished flooring, engineered or solid, is finished at the factory and can be used right after installation. The offerings by manufacturers have increased over the past 10 years and now include all domestic species. While once only rotary peeled, prefinished engineered domestic flooring now comes in solid sawn, hand scraped, distressed, and quarter sawn varieties.
When installing any prefinished engineered domestic hardwood into your home, keep a few points in mind regarding tools and filler. Generally, pieces of prefinished engineered flooring should not be dragged into place, especially with a tool. Filler, similarly, needs to be of the same type of finish – water-based or acrylic – the wood already has.
Prefinished engineered domestic hardwood allows you to have a high-quality floor in your home as quickly as possible. With no sanding and finishing needed, prefinished engineered domestic flooring is glued, locked, stapled, or clicked into place.