Does the word "engineered" make you think of a fabricated, manufactured product? This is not the case for engineered flooring. Composed of multiple layers of natural hardwood glued together, engineered flooring is 100-percent wood and has better resistance to moisture and heat than solid hardwood.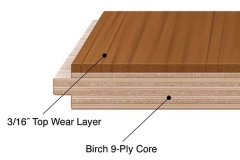 Composed of three to nine layers of hardwood, engineered flooring can be installed on, above, or below ground level. This way, if you want wood flooring in your basement, engineered hardwood flooring will not expand or contract too much from much moisture, heat, or humidity. The top layer, or veneer, is a high-quality piece of hardwood, and those below are of the same or a different species. The grain on each piece, as well, points in a different direction, making the wood stable for many environments.
In addition to location, engineered flooring can be installed over nearly any subfloor, including concrete. Engineered hardwood just needs to be glued down, stapled, or floated. 99 percent of all floating floors are engineered hardwood, but installation varies with manufacturers. Some offer engineered wood floors that need to be glued, while others provide click or lock and fold products.
Sanding and finishing are the final steps of the installation process. Engineered flooring, however, can be sanded as many times as solid hardwood. If you expect to sand your floors multiple times, look for engineered hardwood with a thicker top layer, also called a "wear layer." Engineered flooring is 1/4th to 3/4ths of an inch thick, and 0.6mm to 3/16ths of an inch of that amount is the wear layer.
Varieties
Although once only available with a rotary peeled appearance, engineered hardwood flooring comes in just as many varieties as solid. Find it in unfinished and prefinished varieties, as well as with plain sawn, rift sawn, and quarter sawn cuts. Almost all hardwood species are available engineered. Choose from Oak, Hickory, Maple, Brazilian Cherry, or any other engineered flooring for your home. With stability and ease of installation, engineered flooring efficiently allows a homeowner to have high-quality hardwood from the attic to the basement.