Engineered Walnut Flooring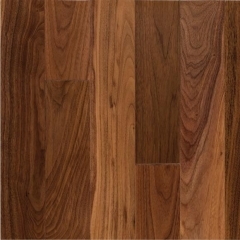 Known for a contrasting appearance, walnut flooring has dark brown to purplish black heartwood and white to tan sapwood. Lower grades display greater color difference, while Clear or Select grade may have a uniform appearance. When the lumber is steamed, the darker color of the heartwood bleeds into the sapwood.
With a Janka scale rating of 1010, walnut flooring is moderately dense hardwood with good shock resistance, straight and open grain, and a pore arrangement similar to hickory. Because of these qualities, walnut hardwood is ideal for machining and sanding and presents no finishing problems.
In order to keep the contrasting appearance, applying only multiple coats of polyurethane varnish, with sanding in between, is recommended.
Walnut flooring comes in solid and engineered varieties, and the latter of these two is often prefinished. Engineered walnut flooring has a few advantages. Because engineered expands and contracts less than solid hardwood, this type of flooring can be installed below, on, or above grade in your home or building.
Engineered walnut flooring, however, is still fully made out of hardwood. Each piece of lumber is composed of three to nine layers of the same or different species bonded together; high-quality walnut hardwood is placed on top. The grain of each layer, additionally, points in a different direction.
In general, engineered walnut flooring with more layers is considered to be more stable in environments with humidity or high temperatures. As a result, engineered flooring can be placed over concrete or radiant heat.
If you expect to sand your walnut floors in the future, opt for a larger wear layer. A piece of engineered hardwood is 1/4ths to 3/4ths of an inch thick, and 0.6mm to 3/16ths of an inch is the wear layer. Made out of high-quality hardwood, the wear layer of engineered walnut flooring can be sanded as many times as solid floors.
In addition to better stability, engineered walnut flooring offers several installation options. The flooring can be stapled or glued down or floated over a subfloor. The installation method for any engineered wood flooring, however, varies with each manufacturer.