Unfinished Engineered Flooring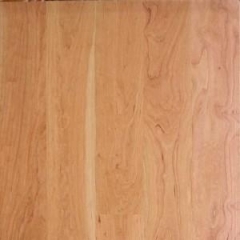 In prefinished or unfinished varieties, engineering flooring can be installed onto any floor of a home or building. Made out of 100-percent hardwood, engineered flooring is composed of three to nine layers, or veneers, of the same or different species of wood, and the grain on each faces a different direction. These two qualities allow engineered flooring to expand and contract less than solid hardwood in environments with heat and humidity. Engineered hardwood, as a result, can be placed over radiant heat or concrete.
The flooring, however, still has the appearance of wood. The top layer is a high-quality hardwood. If you expect to sand your floors often – and this is the case with unfinished hardwood – find engineered flooring with a thicker wear layer. This type of hardwood is 1/4ths to 3/4ths of an inch thick, and 0.6mm to 3/16ths of an inch is the wear layer. Modern flooring allows you to sand engineered hardwood just as many times as solid.
The options for engineered flooring, unfinished and prefinished, have also improved over time. In the past, engineered flooring was only rotary peeled. Presently, solid sawn and other cuts are possible.
Additionally, prefinished and unfinished engineered flooring offers multiple installation possibilities. Planks can be stapled or glued down or floated over a subfloor.
Unfinished engineered flooring requires additional steps in installation. The wood needs to be sanded and then finished. The process, however, may take weeks to complete, and during this time, the room or space must be empty and sterile.
Unfinished engineered flooring does have distinct advantages. Prefinished flooring offers limited options for stains, but unfinished hardwood allows you to experiment and find the best color for the room. During the installation process, several stains can be tested on a part of the wood, and once you have decided on one, the sample spots can be sanded. Finishing your floors, additionally, allows the hardwood to blend seamlessly in with surrounding flooring materials.