BR 111 Engineered Flooring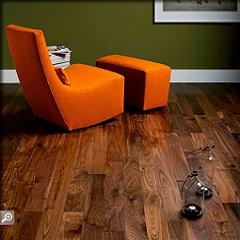 In business for over 20 years, BR 111 is the brand that defined exotic flooring. Solid, locking, and engineered flooring make up the brand's product line. The latter of these three allows homeowners to have the look of exotic hardwood at affordable prices, and two types of engineered flooring are available through BR 111: thinner boards 5/16ths of an inch thick, and thicker boards that are 3/8ths or ½ of an inch thick. Thicker BR 111 engineered flooring is designed with a more substantial veneer, which allows for future refinishing. Brazilian cherry, teak, and Santos mahogany are some of the popular species sold through BR 111, but many more – and even some domestics – are available as engineered flooring.
BR 111's 5/16th of an inch thick engineered flooring is one of the brand's affordable lines of hardwood. The boards, however, have a too-thin veneer and should not be refinished in the future. Nevertheless, this thinner type of BR 111 engineered flooring is built to last 15 to 20 years and ideally should be installed over wood subfloors; adding thinner engineered flooring over concrete is difficult, however, and a professional should be consulted. Engineered flooring 5/16ths of an inch thick can be glued down or floated.
Thicker engineered flooring by BR 111 is part of the brand's Triangulo collection, which includes boards that are 3 1/4th or five inches wide and at least 3/8ths of an inch thick. Triangulo engineered flooring tends to be longer, and boards 23 to 86 inches long are available. The thicker veneer allows Triangulo flooring to be installed onto any surface with any installation method except lock and fold.
BR 111 engineered flooring has two appearances. Most exotic engineered hardwoods have a solid sawn veneer with a smooth look, while others are hand-scraped. Antiquity Engineered Hand-scraped hardwoods have the same qualities as thicker BR 111 engineered flooring, only the veneer layer is given a distressed appearance. With boards as long as seven feet, Antiquity engineered flooring can be glued, floated, or stapled to any surface, although installation over concrete can be difficult.