Engineered Hand-Scraped Flooring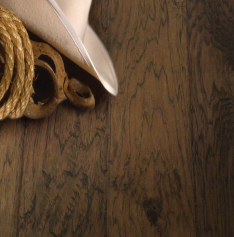 Growing in popularity, hand-scraped flooring is available for practically all species, solid or engineered. If you're looking to add hand-scraped hardwood to all floors of your home, from the attic to the basement, consider choosing an engineered product. As with all engineered lines, hand-scraped flooring consists of three to nine plys of hardwood bonded together; the grain on each faces a different direction, and the top is a layer of high-quality hardwood. In the case of engineered hand-scraped flooring, the top ply, or wear layer, is distressed.
The distressing for engineered hand-scraped flooring is done manually. At the same time, not all techniques used for distressing are the same. While the result is planks that all have unique appearances, hand-scraped engineered flooring may be aged, brushed, scraped, or stained with a darker color. For engineered hand-scraped hardwood, one of the following techniques may be used:
• Time Worn Aged distresses the hardwood through age. A darker colored finish, highlighting the grain, or contouring may also be used to accent the appearance.

• Wire Brushed accents the hardwood's grain and simultaneously removes the sapwood.

• Antique is another approach to distressing hardwood through age, only a lower grade is used.

• Hand-sculpted creates a smoother distressed appearance.

• French Bleed gives the planks deeper beveled edges, which are then highlighted with darker stain.

• Pegged is decorative hand-scraped flooring and, as a result, should not be installed onto a subfloor.

• Hand Hewn and Rough Sawn creates the roughest texture for hand-scraped flooring.

• Custom Unfinished involves installing engineered hardwood first and distressing it later. A professional will alter the wood through bleaching, pickeling, beating with chains, or fastening with antique nails. After the distressing is done, the wood is finished.
In the future, the floor may need to be refinished, but what do you do to keep up the hand-scraped look? Rather than diminishing it with sanding, use a floor abrader to just remove the finish. After the old finish is removed, add the new stain.
If, however, you want to get rid of the distressed portion through sanding, be careful with engineered hand-scraped flooring. Planks with thinner wear layers may have distressing all the way through; in this case, sanding down the distressed portion means exposing the lower plys. If you expect to want ordinary flooring several years down the line, opt for an engineered hand-scraped product with a thicker wear layer, or be prepared to remove the distressed hardwood and install new flooring.