Engineered Brazilian Cherry Flooring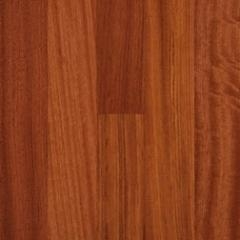 One of the more popular exotic hardwoods, Brazilian cherry is known for a reddish color. This hardwood found in parts of Central and South America has salmon-red to orange-brown heartwood and grey or white sapwood. After the wood seasons, it takes on a russet or reddish-brown shade with dark streaks.

Color for Brazilian cherry flooring varies with grade. Clear grade Brazilian cherry hardwood has a darker reddish color, while Select and Better – the next grade down – is pinkish. Rustic Brazilian cherry flooring has more white sapwood present.

Brazilian cherry flooring is known for density and shock resistance. With a Janka scale rating of 2350, this exotic hardwood is 81-percent harder than domestic red oak. The density may pose some challenges in installation, however. Although both hand and power tools can be used, the wood is difficult to saw and plane but sands easier.

The color of Brazilian cherry flooring changes over time, and a finish may influence this. Oil-based finishes allow the exotic hardwood to age to a deep red; in order to preserve the color, lacquer or de-waxed shellac must be applied first. Water-based finishes, on the other hand, preserve the color longer.

With the popularity of exotic flooring increasing in North America, more options for installing Brazilian cherry are possible. Engineered Brazilian cherry is one of these. Engineered flooring, in general, can be placed on, above, or below grade. Made with better stability, engineered Brazilian cherry hardwood expands and contracts less than its solid counterpart.

In order to do this, engineered flooring is made up of three to nine layers, or veneers, of hardwood. The layers may all be Brazilian cherry or of a different species. The top layer, also called a "surface" or "wear" layer, is high-quality Brazilian cherry hardwood. The grain on each layer faces a different direction, and when placed in an environment with heat or humidity, the hardwood has less chance of warping or buckling. As a result, engineered hardwood can be installed over radiant heat or concrete in your home or building.

Sold in prefinished and unfinished varieties, engineered Brazilian cherry flooring may need to be sanded in installation or at a later date. If you expect to sand the flooring multiple times, consider purchasing engineered hardwood with a thicker surface layer, which allows engineered flooring to be sanded just as many times as solid. Engineered flooring is 1/4ths to 3/4ths of an inch thick, and 0.6mm to 3/16ths of an inch is the wear layer.