Engineered Hand-Scraped Hickory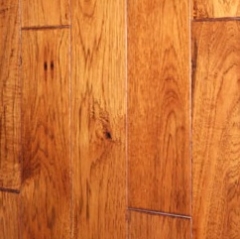 Hickory hardwood is characterized by reddish heartwood and white to cream-colored sapwood. The hardwood's grain is closed but has some definition, and the species itself, with a Janka scale rating of 1820, is one of the densest in North America. As a result, hickory hardwood is both highly sought after and durable.
Appearance and density aside, hickory flooring tends to be difficult to machine, sand, and finish. For the latter of these three, the closed grain creates blotching when a finish is applied, and the grain needs to either be sealed off with a wood conditioner or opened through water popping.
A third option for adding hickory is opting for hand-scraped flooring. Available solid or engineered and unfinished or prefinished, hand-scraped hickory flooring has a distressed, rustic appearance, which hides blotching and other "flaws" better. If you're aiming to have hickory flooring on every floor of your building, aim for engineered hand-scraped hardwood.
To create the hand-scraped appearance, a handful of techniques are used to distress engineered hickory hardwood. Nevertheless, hand-scraping is done manually, and no two planks are identical, as a result. For hand-scraped engineered hickory flooring, one of the following techniques may be used:
• Time Worn Aged involves distressing the wood through age. The aged appearance is further accentuated through contouring, highlighting the grain, or darker stain.

• Wire Brushed is used to accent the wood's grain and removed the sapwood at the same time.

• Antique also distresses the hardwood through age. A lower grade of wood, however, is used instead.

• Hand-sculpted creates a distressed look with a smoother texture.

• French Bleed is a technique used for creating deeper beveled edges, which are emphasized further through a darker stain.

• Pegged a decorative type of hand-scraped flooring. Pegged hardwood, however, should not be installed onto a subfloor.

• Hand Hewn and Rough Sawn are used to create the roughest, texture-wise, distressed flooring.

• Custom Unfinished involves installing engineered hickory flooring first and then distressing the hardwood. A professional will alter the hardwood by bleaching, beating with chains, pickeling, or fastening with antique nails, and then a finish is applied afterwards.
At some point, your engineered hand-scraped hickory flooring may need to be refinished. If you're looking to keep up the distressed appearance, use a floor abrader to remove the finish only before applying the new stain. If, on the other hand, you want to sand and refinish to get rid of the distressed look, be careful with engineered flooring. A thinner wear layer may be distressed all the way through, and as a result, sanding may end up exposing the lower plys. For planning ahead well into the future, opt for engineered hand-scraped hickory with a thicker wear layer, or be prepared to remove the flooring and install new hardwood at a later date.